Table of contents
Typing accents
To type accents like é, â or ç just hold your finger down on the letter that you want, a pop-up menu with different accent variations will appear.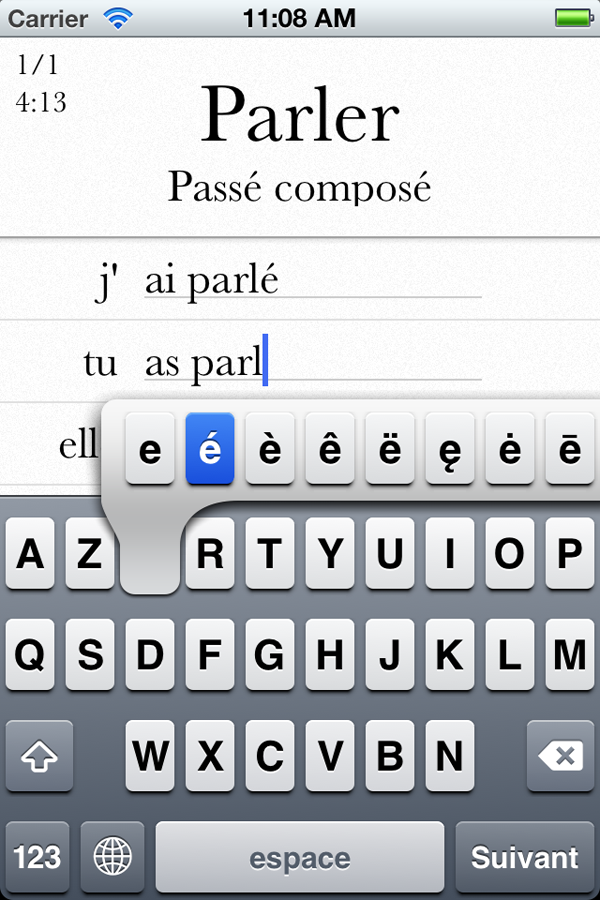 Turn on french keyboard for better typing accuracy
While it is possible to type french using any roman keyboard, you will get more accurate input by switching to the french keyboard. This is because while the keys may look the same size on screen, their actual touch sensitive area are different, so letters that appear more often in the input language will have a larger active area.
You can turn on the french keyboard by
Going to the iOS settings
Select General
Select Keyboard
Select International Keyboards
Scroll down the list until you find French and choose it
Now you will see a new globe key on the bottom row of the on-screen keyboard, which you can use to switch between the default keyboard and the French keyboard.
Restore purchased upgrade
If you have previously purchased an upgrade pack, you can reactivate your upgrade by pressing on the upgrade button in settings, you will not be charged again as long as you're using the same iTunes account that you've used to purchase the upgrade before.
Get in touch
We would love to hear from you, whether you have a question, suggestion or just want to say hello.
You can email us at conjugaison@lescadeaux.co.uk
Credit
Maître de Conjugaison is created by Joseph Williamson at Les Cadeaux, special thanks to all the students and Nathalie Lebret at the Alliance Française de Glasgow for their support in the development of this app.